While it's not as comfortable and fast as Europe or North America, Iran has a high quality and very affordable transportation system. There's a vast network of flights between Iran and Asia, the Middle East and Europe. Visitors usually fly to Iran, using Dubai, Istanbul or Doha air hubs. Most flights land in Tehran (IKA) and in Shiraz (SYZ) . You can also fly to Shiraz, Esfahan and Mashhad, usually from other cities in the Middle East.
Regular buses and trains link Iran and Turkey, and less frequent buses run to Armenia, Azerbaijan, Turkmenistan and Afghanistan. Traveling overland to Pakistan is simple enough, if not that comfortable, either by public transport or in your own vehicle. However, check the security situation in Pakistan before setting off.
Iran has 2410km (1470mi) of coastal boundaries, but there are only a few ways to enter or leave Iran by sea. In the Persian Gulf, there are ferries from Sharjah and Dubai, United Arab Emirates, and from Bahrain, Kuwait and Qatar to different ports in Iran. It's also possible to travel across the Caspian Sea on an irregular cargo boat between the Azerbaijan capital of Baku and Bandar-é Anzali.

in Iran Getting Around
Iran has a well developed transport system. All public transport is frequent, reliable, relatively safe and very cheap. But it's worth considering getting airborne for the following reasons: your Iran visa probably won't last long enough for you to use public transport to remote cities; fares are very cheap; the country is vast, and flights (particularly on Mahan air or Iran Air) are frequent and reliable.
If you can't get somewhere in Iran by bus (or minibus), chances are that no one wants to go there. There are lots of different bus companies offering competitive and mostly comfortable, services. Transport can be a problem for about ten days before, and especially after Nowruz, the chaotic Iranian New Year, which starts on or about 21 March. Road travel can be interrupted by roadblocks at any time of year, most frequently on either side of a main city, but occasionally dotted through remote areas near the Pakistan and Afghanistan borders. Foreigners are rarely hassled at roadblocks - the worst that might happen is asking you to show show your passport and endure a delay.
Trains are fairly efficient, reasonably fast and certainly cheap, but they're often not as convenient as buses, although they are safer and more comfortable (especially for overnight trips). The most exciting trips are between Tehran and Tabriz (for the scenery and excellent service) and between Tehran and Gorgan (for the number of tunnels and the scenery). The great Iranian Railway, was built in the 1930s to connect the Caspian Sea at Bandar-é Turkmen with the Persian Gulf at Bandar-é Imam Khomeini, is one of the great engineering achievements of the 20th century.
Driving your own vehicle is a gutsy call. The distances are long, the traffic is appalling and it's hard to find secure parking or simply a parking place in many streets. The upside of driving is that the road surfaces are generally excellent and petrol is ridiculously cheap. Shared taxis are a better option between major towns. A seat costs about three times as much as a deluxe bus, but can be worth it if you want to hurry through the countryside.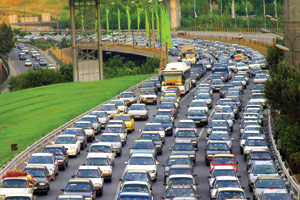 in Iran By Air
Regular domestic flights aren't uncommon in Iran. They also aren't too expensive. Iran Air and Mahan Air usually offer cheap flights from Tehran to most regions in the country, while regional airlines like: Caspian Air and Kish Air provide short inter-region trips in Iran. Taking plane rides when traveling around Iran will save you the time and effort of long-distance commutes.
in Iran By Bus
The Iranian Domestic Bus Network covers a lot of ground within the country and has plenty of cheap seats to go around. Buses in the country usually come in two classes. The VIP class is more luxurious, while the second class is more frequent and economic. But since first-class tickets are reasonably priced, it is always easier to opt for the air-conditioned buses especially when you are in the Middle East. The only downfall when riding buses in Iran is the long trips due to 80 km/h speed restriction.
in Iran By Car
If you opt to ride a car in Iran, hiring a taxi cab is always a viable alternative due to the cheap fuel costs in the country, which leads to cheaper fees. There are many variations of taxis around the country like Savari taxis, shared local taxis, and private taxis. Taxis in Iran are colored in Yellow and Green.
Renting a car is an attractive option also because of the low cost of fuel. You should also be aware and wary of the unfavorable traffic conditions and sometimes, the lack of road discipline especially in busy cities like Tehran .
in Iran By Train and Subway
Getting around Iran via railway trains will get you to your destination point faster while making your trip a more comfortable one compared to cars in Iran and buses In Iran. The RAJA Trains operate on five regional routes that pass through cities such as: Tehran, Mashhad, Jolfa, Gorgan, Khorramshahr, Yazd, and many others.
In Tehran subway is also a good substitute for many routes. It has got three lines (and two in planning) with 28 stations. It is also highly punctual. It operates from 6:00 - 22:00h with a detailed schedule.
in Iran Disabled Visitors
Iranian cities have few facilities for disabled people. Most mosques do not allow wheelchairs inside, and few places of interest have special access for the disabled. In hotels and the restaurants in Iran it's in reverse order. All the staff and the public are always ready to help the disabled and welcome them.