Either you are a backpacker, interested in Iran local foods or simply a busy businessman, traveling can be challenging. With lengthy period on a plane or hectic hours on the bus and protracted meetings with coworkers, you barely have time to sleep, let alone think about how you will find healthy foods to eat. Strange names on the restaurant menu, different spices, smells and tastes? This article guids you to eat properly while you're away and answers some questions about Iranian foods and what to eat and drink when you travel to Iran.
History of food in Iran
Since the beginning of human civilization to today, series of invasions have been imposed to Iran by different countries and exposed the country to new beliefs, customs, foods and ideas as well as exporting Iranian customs and foods back to their countries. The ancient Assyrians, Babylonians, Greeks, Persians, Turks and Romans are just some of the groups that have effected Iranian culture and cuisine.
Due to the fact that ancient Persia was one the commercial powers of the world and Iran was the bridge between East and West, Iranians took their own products exclusively saffron, pomegranate and spinach to each part of the world. some traded commodities including rice, eggplant and lemons are some of the main components in the national Iranian dishes.
Similar to the style of cooking in Middle East, wheat is the main constituent of Iranian cooking where meat, yoghurt and rice are also common. Having a sour flavor in Iranian dishes is favorable in many of Iranian dishes which can be obtained by adding lemon, sour orange or pomegranate juice. Cooking Iranian dishes are often cooked slowly and time-consuming.
Iranian Foods

What do Iranians Eat? The delicious Iranian Foods are an indivisible part of Persian culture. Food in Iran is of a great variety due to the multiplicity of Iranian provinces and cities. At the same time that Iranian foods are colorful, scented and mouth-watering, they also tend to be healthy and nourishing.
The Iranians generally eat three meals a day: a light breakfast in the morning, lunch at the noon which is the main meal and dinner at the night. It includes a wide range of dishes comprising different types of "Khoresht" (stew) like "Ghormeh Sabzi", Fesenjun, Gheymeh, Bademjan etc. which is served on Iranian rice, "Chelo Kabab" that is a combination of rice and roasted meat, "Kuku", a baked food whose main ingredients are egg and potato, "Ash" (Potage), different kinds of "Polo" which is the combination of rice and other ingredients (e.g. Sabzi Polo, Lubia Polo, Baghali Polo etc.) and varieties of sweets, salads and beverages. There is also a wide range of Persian recipes and starters in Iran.

To taste Iranian food in true meaning, it is better to eat at an Iranian's house, as many restaurants in Iran limit their menu to different types of kebab, thust the variety of foods is limited. However, traditional restaurants generally have wider ranges of food eating in them will invoke the feeling of living in old time Persia.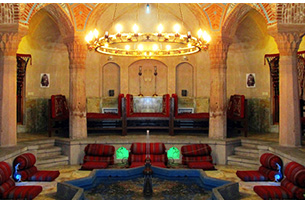 Iranian restaurants take a great care to cook Iranian foods. To be clean and hygienic, plastic gloves are used to prepare food practically in every Iranian restaurant. Grilled liver and minced meat better be avoided in hot days of summer. Being clean and quite crowded can be good criteria when selecting an eating place. The food vendors also better be cleaner and healthier to be trusted.
Putting it in a nutshell, food in Iran is meant to be healthy, colorful, delicious and simple. In order to add a pleasant flavor and scent to the dishes, usage of light spices, herbs and fruits are common in different Persian dishes.
Water and Soft Drinks

Iran pipeline system is broad all around the country with is cheap, fresh, clean water. Although there are different water filtration systems in Iran, it's advised that tourists to drink bottled water and use tap water for washing.
No matter the type of drink, whether it's a coke, dairies, fruit juice or islamic beer, soft drinks in Iran are sold commonly in bottles and rarely in cartons. 'Dough' which is a popular and healthy drink is watery yoghurt chiefly drunk with meal and is similar to 'Ayran' (a kind of drink in Turkey).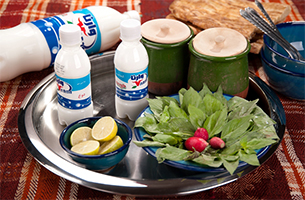 Desserts in Iran

A lot of effort and time is spent on making sweet foods in Iran. Every Iranian province traditions of its own to prepare these appetizing desserts. Fruits like nuts and date are the regular ingredients. However, Iranians mostly consume desserts and sweet foods on specific occasions because of love they have for fruit. To welcome the gusets at their home, Iranians bring fruit bowl, tea and sweets.

Rice in Iran

Rice (berenj) is the main component in many of Iranian dishes. The highest quality of fragerant Iranian rice is harvested in north of the country in month of "Mordad" and "Shahrivar". Generally the meals eaten as the main meal are rice-based. Preparation of rice is an art in Iran provided by saffron and barberry which stimulates your appetite when your around the meal table!
Hospitality in Iran
In Iranian culture there are special traditions about guests and hospitality. As in Islam, the state religion of the coutry, it's emphasized to the Muslims to be hospitable toward the gusets you will be surpprized by the warmth and eagerness that your host has to make sure that you are well looked after and well fed!